Wasteful, surplus space is everywhere and for sale at deep discounts here at www.SurplusTruckSpace.com!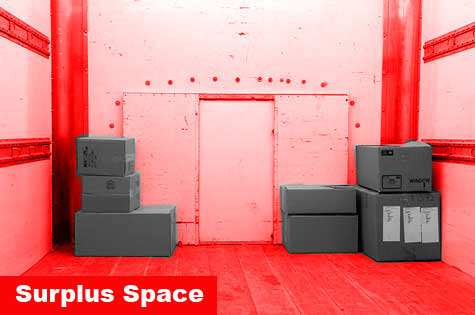 Welcome to www.SurplusTruckSpace.com...
Few industry insiders will admit it, but one of if not the biggest expense and inefficiencies found in storage, warehousing, trucking, railroad and shipping operations is empty space. It has always been considered an economic fact of life, a cost of doing business. Additionally, many attempts have been made to connect parties supplying space filling objects with those who have surplus space, but most have not done a very good job at selecting the right data, the right site navitation, the right criteria, etc. Most of these so called technologies, or "load boards" that have been developed also lack the user friendliness and user rich environment necessary for both freight suppliers and freight carriers to negotiate and undertake transactions necessary for maximizing online options and the online experience.
The SurplusTruckSpace.com website, technologies, network, community, members, partners(and us, administration) comprise a dynamic association of information exchange. The SurplusTruckSpace.com site is both a live online auction style marketplace as well as a place to passively post options and availabilities for partners and members. SurplusTruckSpace.com is dedicated to filling surplus space with space filling commodities. SurplusTruckSpace.com is here to help those who choose to use technologies and strategies to gain a competitive edge, reduce costs, improve profitability and seek to find better ways to make their overall operations more efficient.
How does SurplusTruckSpace.com work? As you have probably noticed, we have designed our site primarily in black and red colors. Black symbolizes a color that is universally associated with efficiency or profitability. Red is a color that universally symbolizes cost or loss in business reporting transactions. You have probably heard, in the red or in the black when listening to business conversations. Those who have space filling commodities are represented by black colors and those who are operating equipment or have surplus space available will see their graphical representations made on the site in red. The goal is to reduce the red for the carriers, while those who have objects to store or ship, are in total black, because they have the purchase power, are willing to see a little red come into their black positions.